It has not been raining today but my mood is soaking wet already.
On my way to Chad's house in south of Tacoma, the drive seemed unusually long. Mt. Rainier is missing from its usual spot. Layers of clouds filled the sky with a somber gray color.
I did not know him until six months ago. We became acquainted after I learned that he was a large format camera photographer. Large format cameras dominated the photographic scene before the Nikon and the Canon started roaming around the world.
Three long months ago, he retired.
And now, today is his last day in United States.
D
ressed up in his best clothes, Chad greeted me outside his entrance door.
He has been anticipating this evening, so nervous that he couldn't stomach his last meal in the United States.
He called Cleo into her cage and we carried her cage on
to the back of my pick-up truck along with his luggage. Chad is out of breath.

For the last time, he looks back at this rental house in the dark, where he called it home for 15 years.
He left the key inside and locked door for good.
I drove him to his favorite Mom-Pop shop. He bought a couple of Lotto tickets. Then we are on our way to Seattle - Tacoma International Airport.
Chad is on his way to
Leyte, Philippines
.
Chad has told me the reason why he wants to retire in Philippines before. The main reason is the cost of living. While we were driving, he told that on
e time he was sick and had to be hospitalized in Philippines. The 3 days hospital bill was $500 USD. In comparison with expenses, Chad was billed for a whopping $1760 USD for one day in a local hospital in Tacoma.


Leyte is near equator. There are beautiful beaches, tasty fish, plum trees, and a nice tropical breeze. I couldn't help to ask Chad what he planned to do after he arrives in the Phillippines.
"Are you going to write a blog?"
"Are you going to scan all those 2"x3" slides?"
"Are you plan to write a book about you and your father?"
(Chad was taught to operate a large format camera by his father, a famous photojournalist.)
"No. I am going to do some volunteering work. I am going to practice my medical skills and treat those poor people. I will be busy," he said.
Cleo and her cage weights 32kg. That causes Chad $460 USD dearly.
But when your dog is your best friend, no price is too much.
The whole check-in procedure last almost 50 minutes, but this is the smallest leg of his journey. First, Chad catches Eva Air early morning flight from Seattle to Taipei, Taiwan. Then he will catch the second leg flight from Taipei to Manila, Philippines in the morning. After arrive Manila at noon, helpers from Leyte will meet him at airport. They have to wait 12 hours before boarding a ferry which takes him, his dog and his friends to Leyte in 7 hours. What a journey!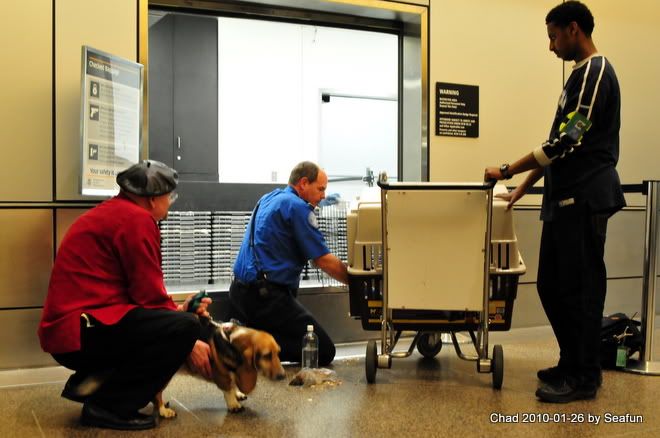 A Homeland Security officer searched the cage thoroughly. Then the porter (right) wheeled the cage to the aircraft (Boeing 747) luggage holding bay directly. Chad tipped him $5 USD although the young man told him he didn't have to.
Chad surprised me: I have never flight with my dog before.
After said goodbye to Cleo, Chad looked right into my eyes. He didn't know what to say.
Everything felt like it was frozen at that moment. Chad reached to the point of no return.
We all know about this ending but is this really what he wanted?
I reached out my right hand, he grabbed it with his right hand firmly.
I said: "move on young man!"
He nodded his head, turn around and moved on to his journey, the final departure.
I watched him disappeared from the view. Perhaps this is the last time I will ever see Chad again.
It is an end of on
e life and a beginning of a new life at age 66.
---
我只跟 Chad (企德)只有半年的接触,兴趣的投机把我们栓在了一起。原来他是位大底板照相机摄影师,他的父亲曾经是位著名的体育新闻摄影记者。三个月前他说要退休了,而且要搬去
菲律宾
居住。临走前,他把他把他父亲用过的相机和他自己用过的好多架相机和镜头都送给了我,又亲自传授操作要领。也是为了表达谢意,也是不忍看着他一个人拉着狗走出国境,我开车把他送的了机场。沿路上我们又扯了许多。
就这样 Chad (企德)一步跨出了美国。我还以为他会利用充足的时间去整理他的摄影作品。他却将把自己的晚年忙碌于医治当地穷人。白色的沙滩,海风兮兮,还不是诱惑的全部,是因为美国高昂的医疗费用使他迫不得已。 美国是一个美丽的疆土,孩子们的天堂,年轻人的战场,老人的坟墓。告别曾经居住过的66年的祖国,一切从新开始,与其说是追梦,不忍说是首挽歌。
也许我再也见不到 Chad 了。最近谷歌闹着撤退,【微娃】也不上来了,【心儿】要搬家,【苦旅达人】把门锁上,连给我留下了一段话也一起消失了 ...... 留下一段话和几张照片,就让它们浸泡在冰凉寒冷的冬雨当中吧。